One of my current favorite blogs is
Young House Love
. Have you been there? If you haven't, get there fast and be prepared to hang out for a while. You'll LOVE it!
I think the thing I love most is that they are not only about the same age as me and my husband, they have a daughter just about the same age as mine, and their passion for DYI on the cheep is incredibly inspiring! Ok, that's more than one thing. (I really want to be their friend....maybe a little too much. I mean they live only a state away from me!) Their posts on their projects are SO detailed, they make everything look easy to accomplish if you follow the right steps.
This might be my favorite transformation they've done: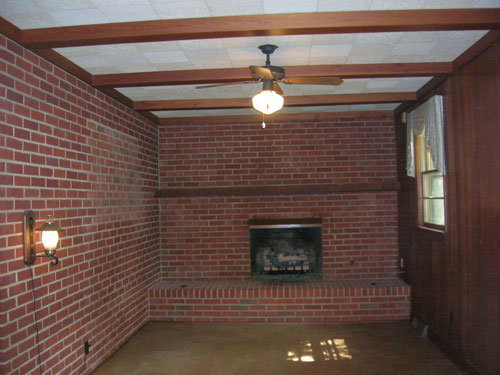 Their current kitchen remodel has me and my husband itching to get the ball rolling on ours (without spending an arm and a leg and our next child to do it.) I'm secretly anxiously awaiting every new blog post they share on their progress. Take a look at what they're doing:
I mean, HELLO!?! What a difference!
I'm hoping my husband and I can do at least half as nice a job on ours.
I love a good before and after shot, so here we go.
Our kitchen, built circa 1980.
- We HATE the cabinets. Those are definitely getting painted some shade of white. We think some shiny new hardware will make it that much nicer too. We'll be following YHL's
step by step
on how to do this with the best results.
- Update the lighting with recessed lights. You can see how glaring the fluorescent light is in the picture
- New ceiling. More on that below. We HATE the stucco ceilings we have throughout the house and are super excited that at least one room will be rid of them.
- We don't love the black appliances (came with the house), but they are in good condition and they match, so they're staying.
- We also don't love the counter tops, but they are in good condition (for laminate). If we can find a good deal, we may change those too.
We painted that cranberry color around the top one night after hubby painted some shelves and we had one of those "we-have-left-over-paint-and-want-to-paint-something-else-and-it-might-look-nice" moments. We liked it for a couple days. We don't love it anymore.
And this is our least favorite part of the kitchen; The nasty hole in the ceiling above the refrigerator. We actually made that hole ourselves, but it was necessary when we noticed water dripping from the ceiling after a HUGE snowstorm 2 years ago. (Yes, that has been there for WAY too long.) Short story: we had an ice dam on the roof. With the ceiling panel sagging because it was completely saturated, our best option was to cut a hole in the drywall to let the water drain. It turned out to be a good option, because 5-6 gallons of water drained out. Better that than the whole ceiling caving in.
Lovely isn't it? We lived with that hideous hole for WAY to long. Like 2 years long.
This is the eat-in area of the kitchen. We spend a lot of time here. It's usually not that empty, but we had already started emptying the room for the contractors to come redo the ceiling. And those are the cranberry shelves that prompted the paint above the cabinets.
So we hired a contractor who ripped out the entire ceiling (Hallelujah!!), installed 4 - 5" recessed lights, and primed the ceiling. We're looking to save as much money as possible, so we opted to paint the ceiling ourselves. We want to repaint other ceilings in our house so we didn't mind buying ceiling paint and doing it ourselves.
Next post will show you our lovely new ceiling (we really love it! maybe a little too much) and what else we did once we got the rollers out to paint the ceiling!